Pyha Optional Excursions
Pyhä Optional Excursions

Please, note, that Adventures In Luosto exclusively provides all tours from Christmas programs only for Canterbury Travel customers.
BOOKING AND CONFIRMATION TERM
- Please book the stories by 17:00 the same day to ensure your participation.
- Bookings are on a first come, first serve basis.
- We reserve the right to changes.
If there is problem appeared, please, contact with:
mikhail@adventuresinluosto.com
info@adventuresinluosto.com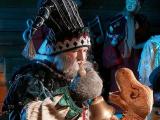 Pyhä
Santa's special helpers are unique magical characters. Welcome Snowy Bowy the beautiful ice princess, or perhaps the excitable Tricky Dicky, Noisy Nod or Speedy Sam into your accommodation for a very special reading. Duration: 25...
read more...