Pyha Optional Excursions
Pyhä Optional Excursions

Please, note, that Adventures In Luosto exclusively provides all tours from Christmas programs only for Canterbury Travel customers.
BOOKING AND CONFIRMATION TERM
- Please book the stories by 17:00 the same day to ensure your participation.
- Bookings are on a first come, first serve basis.
- We reserve the right to changes.
If there is problem appeared, please, contact with: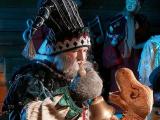 Pyhä
Santa's special helpers are unique magical characters. Welcome Snowy Bowy the beautiful ice princess, or perhaps the excitable Tricky Dicky, Noisy Nod or Speedy Sam into your accommodation for a very special reading. Duration: 25...
read more...