Pyha Optional Excursions
Pyhä Optional Excursions

Please, note, that Adventures In Luosto exclusively provides all tours from Christmas programs only for Canterbury Travel customers.
BOOKING AND CONFIRMATION TERM
- All excursions are subject to a minimum number of 2 participants or as shown.
- The Finnish law dictates a minimum age of 15 and a driver's licence to drive a snowmobile. Children over 140 cm in height are allowed to sit on the snowmobile when paying the adult price.
- The snowmobiles are insured, drivers are liable for damages up to €950 in the event of an accident.
- Please book the excursions by 17:00 the previous day to ensure your participation.
- Snowmobile safaris are subject to change due to weather conditions.
- Company reserve the right to cancel customer participation, if customer have had alcohol before snowmobile safari.
- We reserve the right to changes.
If there is problem appeared, please, contact with:
mikhail@adventuresinluosto.com
info@adventuresinluosto.com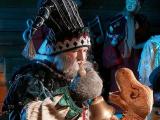 Pyhä
Santa's special helpers are unique magical characters. Welcome Snowy Bowy the beautiful ice princess, or perhaps the excitable Tricky Dicky, Noisy Nod or Speedy Sam into your accommodation for a very special reading. Duration: 25...
read more...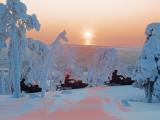 Pyhä
This exhilarating trip through the Pyhä terrain encapsulates the careful balance between man and nature as our experienced guides escort you by snowmobile through the tranquil, snow covered environment that Pyhä offers. By undertaking this...
read more...